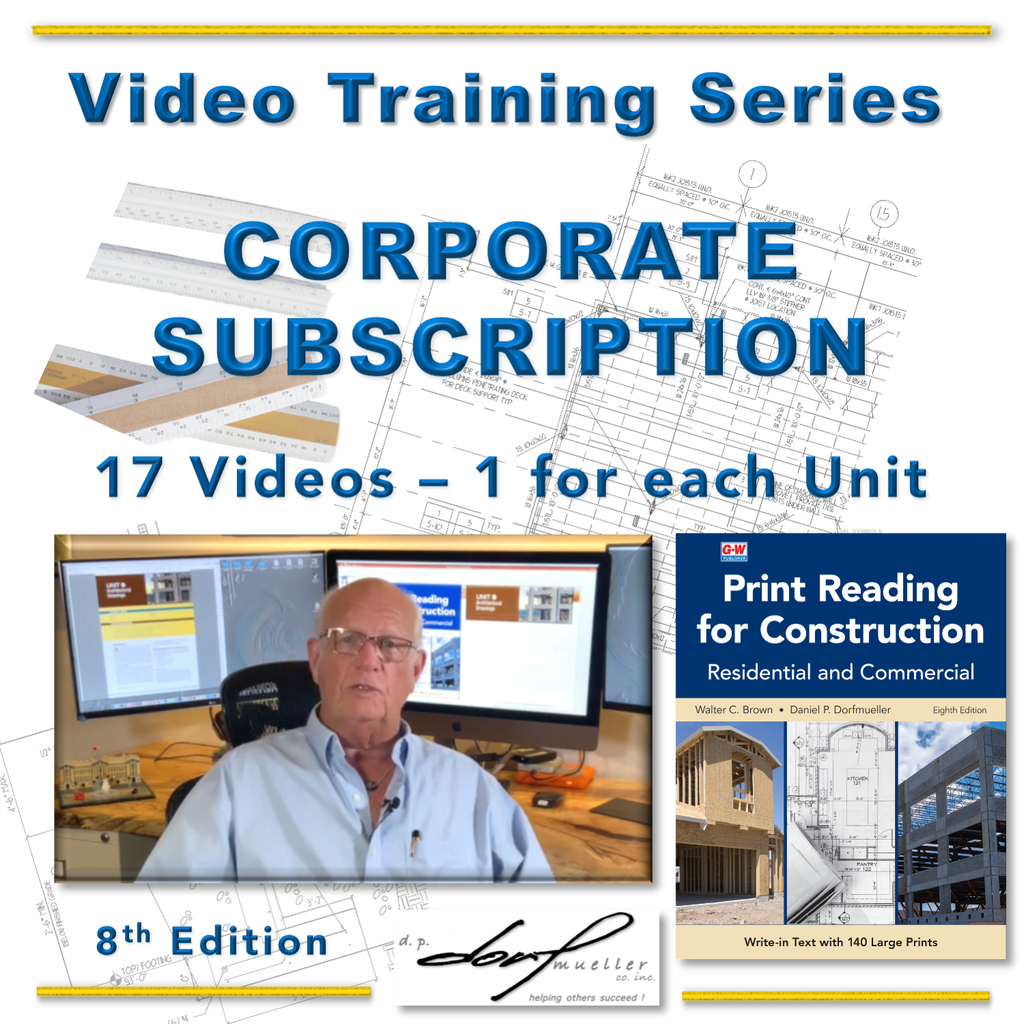 d. p. dorfmueller co. inc.
Corporate Print Reading for Construction, 8th Edition... Video Training Series
CORPORATE  SUBSCRIPTION
Train as many students in your organization as you want with this all
NEW YEARLY

 VIDEO TRAINING 
SUBSCRIPTION SERIES

An Overview of the contents...
Print Reading for Construction
8th Edition      
Video Training Series
17  Comprehensive Videos
1 for each Unit
Yearly

subscription

 price use all you want to 

training your team...
$3900
Includes answers to the...
Test Your Knowledge Activities in the videos
Note... textbook ordered 

separately!
see Print Reading for Constrcution 8th Edition textbook for purchase
free shipping USA
Each video is a comprehensive review of the corresponding unit's content... and in many cases more.  The training course is narrated by the author, Dan Dorfmueller. Dan has over 45 years in construction and was trained as an architect with a degree from the University of Cincinnati DAAP program.
The program is intended for technical students, apprentices, and adult construction workers or anyone entering the construction industry. When you complete this training course you will be able to navigate construction documents.


Features:
Taught by the author Dan Dorfmueller

Each unit has the answers for all the Test Your Knowledge activities

Access to all 7 drawing PDF's for activities 

PDF of answer 

key for management
Please Note:
You will be contacted each year for review & renewal before the subscription is renewed... 
This video series is for corporate or trade associations up to 100 employees / members... companies or trade associations over 100 employees / members please call please contact me for a yearly license agreement price.
Thank You
---
More from this collection